Microeconomics For Business – BBA First Semester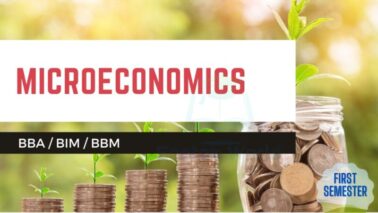 About Course
The study of microeconomics – BBA First Semester is essential for understanding how decisions are made in different areas that are highly relevant to the student. The content covered in this course is applicable to both the individual and the firm.
Content will be updated Soon …
Keep in touch
What Will You Learn?
This module helps to develop students' understanding of the microeconomic concepts and theories in order to enhance their skills in analyzing business opportunities, market and risks.

This course makes students skilled to understand the fundamentals of microeconomics; analysis

of demand, supply, market efficiency, elasticity of demand and supply, analysis of consumer's

behavior, production, cost and profit analysis, firms in market and pricing practices and the

resource markets.
Course Content
Unit 1: Fundamentals of Microeconomics
Unit 2: Analysis of Demand, Supply and Market Efficiency
Unit 3: Analysis of Consumer's Behavior
Unit 4: Production, Cost and Profit analysis
Unit 5: Firms in Market and Pricing Practices
Unit 6: Markets for Resources
OLD SYLLABUS
Unit 1: Introduction to Microeconomics
Unit 2: Theory of Demand and Supply
Unit 3: Theory of Consumer's Behavior
Student Ratings & Reviews